Run The Kessel T-Shirt
Think you can make the Kessel run in less than 12 parsecs? For Star Wars: Solo we are releasing a very special shirt featuring Han and Chewie's hands in a Run The Jewels mashup design. Han is holding his very own lucky Sabacc dice from the Millennium Falcon and all ready to fly with his furry co-pilot. 6 Color Print on a Heather Black Poly-Cotton Blend Uni-sex Tee.
This is a PRE-ORDER ITEM and will ship in 3 weeks, I would highly suggest order this now to make sure we have enough of stock in your size!
Artwork by Adam Jeffers (@trashnite)
Attack The Block (Original Motion Picture Soundtrack) 2xLP
The premiere vinyl release of Attack The Block original motion picture score and soundtrack from Steven Price, Felix Buxton, and Simon Ratcliffe (and a Basement Jaxx track!). This 2011 Sci-Fi film was the breakout performance for actor John Boyega (Star Wars, Detroit, Pacific Rim 2), Jodie Whittaker (Dr. Who), as well as Academy Award winning composer Steven Price (Gravity, Suicide Squad, Fury). The story follows a teenage street gang who have to defend themselves from predatory alien invaders. Pressed on Glow In The Dark vinyl 2xLP and Glow labels to bring the monsters back onto your very own turntable.
Bundles available with Attack The Block steel pint glass/tumbler and enamel pins:)
Attack The Block - Moses Pin
"They Want Moses" - 1.5" tall Soft Enamel Pin of our favorite hero, Moses (John Boyega) to sport around your block. Includes backing card and 2 rubber clutches.
Limited to 100 pieces
Artwork by Stuart Moore - (www.stugraphics.com)
Officially licensed through StudioCanal
Attack The Block - Silouhette Pin
Join the Inner City VS. Outer Space fight with this Silhouette Pin. 1.5" wide Soft Enamel Pin with Turquoise Glitter. Includes Backing Card and Two Rubber Clutches
Limited to 100 pieces
Artwork by Nicholas Stahl AKA Quiet Vessel (www.quietvessel.com)
Officially licensed through StudioCanal
Attack The Block - Teeth Pin
Wear the monsters on your bag or jacket with this 'Glow In The Dark' Enamel Pin. The 'Teeth' Pin is 1.5" tall and includes a backing card and 2 Rubber Clutches.
Pressing Information
Limited to 100 pieces
Officially licensed through StudioCanal
Acers - Natural Wood Sunglasses
-Made In The USA
-Handcrafted from Recycled Skateboard Decks
-Polarized Lenses
-Spring-fit Hinges
-Gloss Weather Proof Protective Coat
-Assorted Inside Arm Color
-Comes with Cinch Case & Lens Cloth
Relaxed Snapbacks
Schematics - 3/4 Sleeve Raglan Tee
Jump into your turntable with these brand new Schematics design. The piece is printed using waterbase ink. This style of ink essentially bleaches and dyes the fabric, leaving you with a seamless design on the clothing. These are printed on a Unisex 3/4 Raglan Tee and are blended for comfort.
All of the I Am Shark apparel shown in our web store is screen printed by hand on a manual press. We personally take care of this process from start to finish, keeping printmaking integrity alive, and carefully perfecting every piece we sell. The clothing we produce is a personal adaptation of design and practicality, as we stride to create comfortable articles with long lasting quality.
Sink Or Swim Flannel (Navy/Grey)
I Am Shark is gonna keep you warm with this winter with our brand new Sink or Swim Flannel! This color of Navy/Grey Flannel comes with a authentic 'Sink or Swim' leather patch above the left breast.
100% of the most comfy cotton, two chest pockets with button down flaps, and adjustable cuff buttons to roll up your sleeves and get some hard work done.
'Sink Or Swim' Typography Patch designed by Nick Stahl
Pray For Sound - Everything Is Beautiful
The third release from Pray for Sound, Everything Is Beautiful, communicates the dichotic concept of light vs. dark without a single spoken word. As the follow up to the band's 2014 album Dreamer, Everything Is Beautiful marks an all in decision to dedicate their energies towards the band. "The five of us left our 'real lives' behind in Massachusetts and relocated up to Glover, Vermont for eight days with all our music equipment," recalls Malley. "No distractions or stress." Removing all societal participation built quite a euphoric experience for the band, and allowed them to find renewed creativity in their songwriting. Eleven new songs found on Everything Is Beautiful feature turbulent guitar riffs and heart pounding drums accompanied by sweeping and all encompassing undercurrents of sound that evoke the likes of My Bloody Valentine, Tycho, and Explosions in the Sky. "We discovered a newfound excitement for the music we were making," says Malley of the time spent writing and recording Everything Is Beautiful. "We took our time to finish our ideas, and the end result is something we're all incredibly proud of."
Everything Is Beautiful was written, recorded, produced, and mixed by the band themselves. Pray for Sound will begin hinting new songs and content from Everything Is Beautiful beginning September 2nd, 2016 as pre-orders for the album begin. The band is accompanied by a united release from I Am Shark, AM/FM Records, and Dunk! Records (UK) coordinating a full-length release via Digital/CD/Vinyl/Merch on September 23rd, 2016.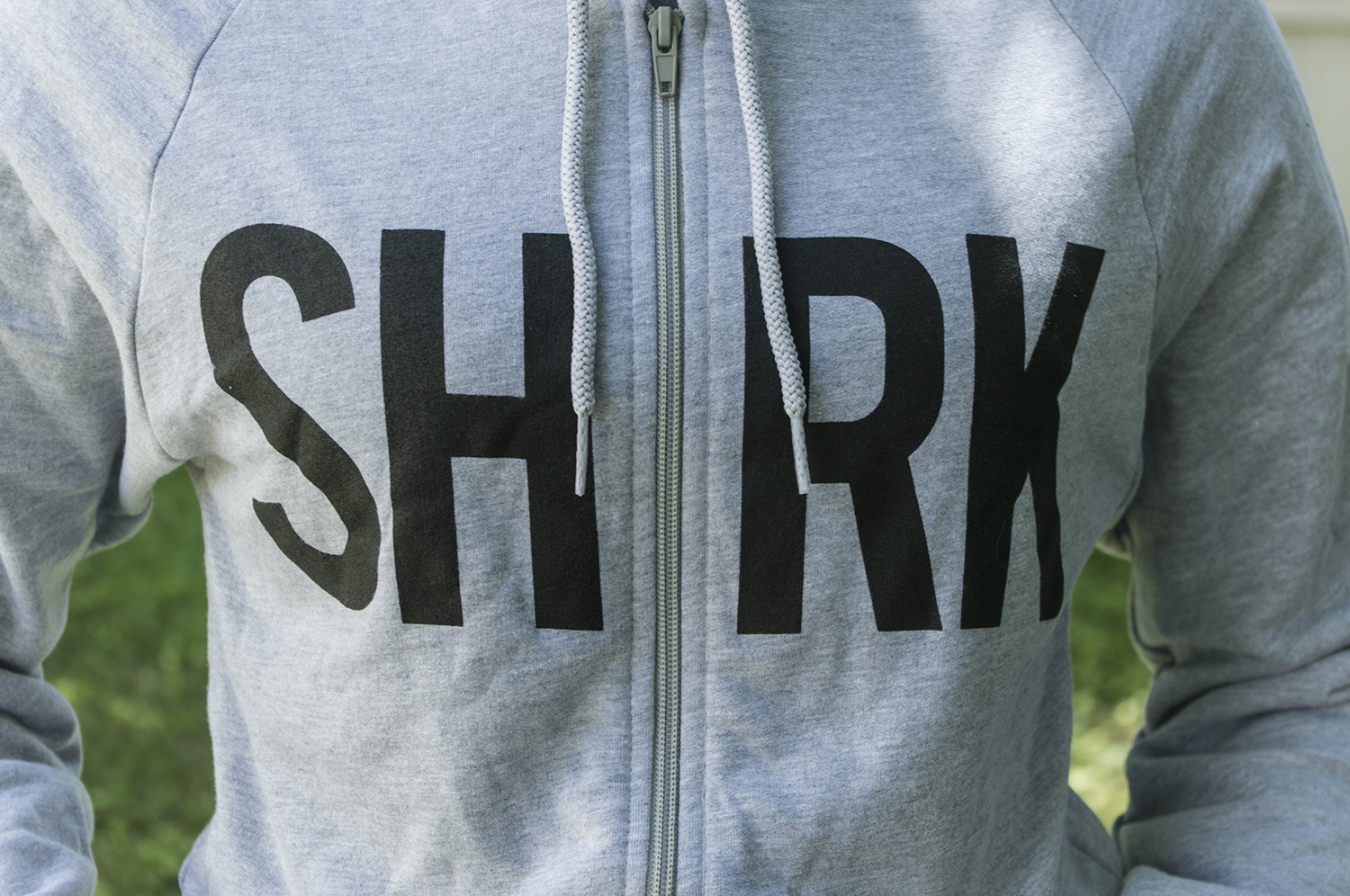 SHRK Hoodie
Logo Shirt
Broken Drawstring Bag